http://www.dummies.com/home-garden/plumbing/toilets/how-to-care-for-your-septic-system/
Regular Septic Tank cleaning is essential to prolonging the life of your pump and septic field, and avoiding sewage backing up into your home!
We provide thorough Septic Cleaning service for a variety of septic systems.
We will also install a new quality pump at a reasonable cost in the event that yours has run it's course.
If it's a Holding Tank you have, we can accommodate up to 3800 gallons in one load!  Many Vac trucks hold less volume than our larger truck which was built to accommodate larger Holding Tanks.  This way our customers only are paying for one load from us to have their tank emptied where it could take the smaller trucks two loads, thus saving you money over the course of a year!
We specialize in cleaning out wash bays, sumps, lift stations, grease traps and parts washers. And if it is a job that requires a good steam cleaning we can arrange for that as well.
Due to such variations of sizes for Sumps and Gutters it is difficult to give a blind quote over the phone. Proper disposal is essential and therefore costs will vary depending on the contents of the sump as well. An estimate for disposal can sometimes be more difficult to be completely accurate with varying products in the sumps as it is charged by weight. This is especially true for Large Sumps and long gutters.  We will be happy to come out and have a look in advance for those larger jobs!
http://www.bio-clean.com/whatisbioclean.php
We are a proud distributor of BioClean!
BIO-CLEAN is.

.

 

. 

a blend of bacteria and enzymes. The bacteria are natural, not genetically-engineered. The enzyme concentration is the most powerful on the market.
Within an hour after pouring the bacteria into the drain, the bacteria begin to eat their way into the waste that has accumulated on the sides and top of the drain pipe. This is their natural food. They digest the waste and spread throughout your system, cleaning it completely!
Bergie's Pumping and Vacuum trucks have been serving the communities of Parkland County, Sturgeon County, Edmonton, and all the surrounding areas for well over 40 years! It has always been a family run business, providing reliable, knowledgeable, and exemplary service to all of our customers! We provide a personal approach to each of our projects, working to go above and beyond your expectations!
Whether it is for Residential, Commercial, Industrial, Manholes, Parking lots, or Outhouses, we put the same amount of care and work ethic into every job we do!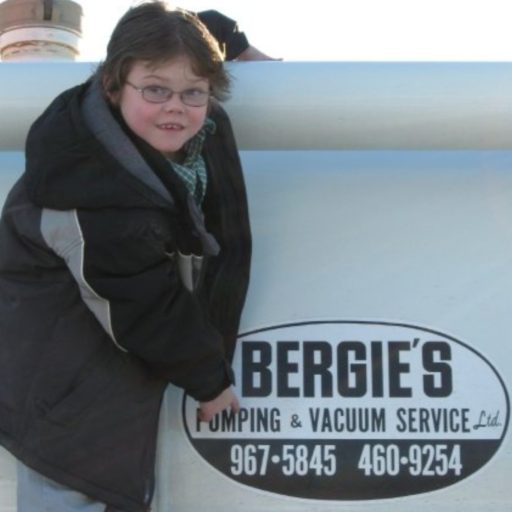 Monthly, weekly, or daily service available on a schedule.
Planning ahead is always much better than panicking later!  Puting your Holding Tank pumping on a regular schedule can bring you peace of mind, and avoid surprise backups in your home or office!
Remember to have your Septic Tank pumped out every one to two years for proper maintenance between April and October!  Regular maintenance should not be done in the winter, if you are calling at that time it's usually an emergency and will usually amount to higher cost for service.  Keep in mind that in the winter our access to the tank is limited, lids will most often be frozen on, and you could run the risk of your field becoming frozen as well.
Be pro-active and have your tank maintenance done while the weather is good! You will be glad you did, and your system will thank you for it too!
Thank You!
A company can not stay in business for over 40 years without the support of a fantastic clientele!
We have been proud to provide reliable, efficient, service to the local area through an ever-changing economy!
We have seen many people and businesses move on over time, and are always honored by the glowing referrals they leave behind for the next homeowner or business to continue with our services.  Word of mouth referrals have always been a true testament to our hard work and reliability!
So to our customers who have been with us for a very long time, and also to the new people who are just getting to know us, THANK YOU for your confidence and loyalty over the years! We could not be here without you!
At home, or at work,
Call now for reliable and efficient service!